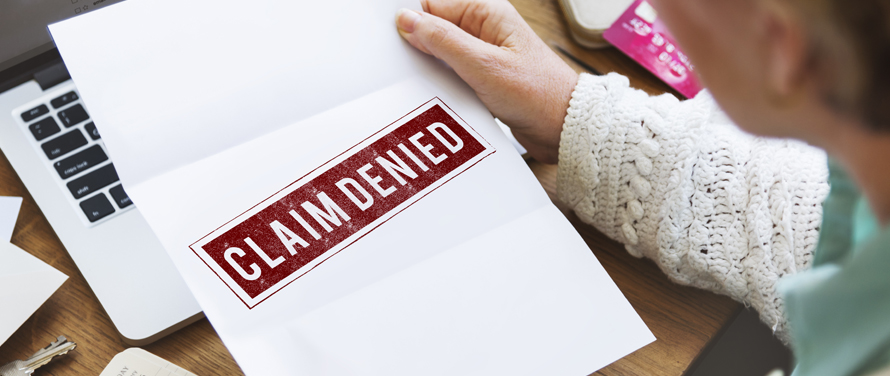 What to Do if the Other Party's Insurance Has Denied Your Claim
When you have been involved in a traffic accident, determining legal liability is one of the most important issues at hand. 
In some cases, it is perfectly obvious which driver caused an auto accident. However, some motor vehicle accidents are not as clear-cut. 
Suppose another car collided with you at a four-way stop. If the accident resulted in damage to your car and a minor auto injury, you might file a claim for compensation. But if the other party's insurance provider denies your claim, things get complicated.
This can happen even if you did your best to follow the rules of the road. It can happen even if you took extensive notes and collected evidence about your accident.
When you are in a situation like this, it is very important to contact an accident attorney. A skilled legal professional will help you to recover the auto accident compensation that you are due.
Reasons that Insurance Providers Deny Claims
It is incredibly frustrating for your traffic accident claim to be denied. This is especially true when you believe that another driver is responsible for your auto accident.
But there are many reasons why an insurance company might decide to deny your claim. Typically, there are two main categories of claim denials:
The insurance company believes that your claim is unjustified
The insurance company hopes that you will not continue pursuing compensation
It is vital to remember that insurance providers are not working in the best interests of accident victims. The goal of an insurance company is to maximize its own profits.
Because of this, an adjuster may choose to believe their own client, even if their report lacks merit. This strategy becomes even more likely if there is no official police report available.
That is why you should always collect as much evidence as possible in the immediate aftermath of a traffic accident. 
Relevant examples of evidence and documentation include:
Photos of the scene of the crash
Names and statements of eyewitnesses
Photos of automobile damage
Photos of any resulting traffic injury
The name of the reporting police officer
This type of evidence can help you recover the money that you need. An accident attorney will use this documentation to build a powerful claim for you.
The other party's insurance provider may deny your claim for several other reasons, as well. 
Policy Exclusions
Some insurance policies include categorical exemptions. For instance, natural events are often excluded from accident coverage. This includes damage caused by storms and inclement weather.
If the other party's insurance company believes that a natural event caused your collision, they may deny your claim.
Lapsed Policy
To recover damages from another party's insurance provider, their driver must be in good standing with the company. 
Suppose that the other driver failed to pay their monthly premiums. If their failure to pay caused their policy to lapse, the insurer may cite that as a reason to deny your claim. In a circumstance like this, you would need to seek compensation through your own uninsured or underinsured motorist coverage.
Steps to Take if Your Claim is Denied
If your claim has been denied by the other party's insurance provider, contact an accident attorney as soon as possible.
When a skilled legal professional contests the denial on your behalf, insurance adjusters will take your case more seriously. 
First, a knowledgeable car accident attorney will draft and send a demand letter to the company. This letter will provide details about your side of the story. Your lawyer will cite any relevant evidence to back up your account of the collision.
In many cases, insurance providers will reverse their denial immediately. Alternatively, they may offer a portion of the damages that you are seeking.
Regardless, the insurance company will likely respond to the demand letter in some way. If they do not reverse their decision, a qualified legal representative can help you navigate the insurance company's formal appeals process.
Reputable accident attorneys have plenty of experience in negotiating with tightfisted insurance adjusters. They can effectively argue your case and fight hard for the compensation that you deserve.
In some cases, a demand letter, formal appeals, and negotiations will fail. Some insurance companies are very uncooperative. In these situations, you may need to file a lawsuit for damages. If this is the case, your lawyer will examine the circumstances of your claim very carefully to build the strongest suit possible.
Consult with an Accomplished Accident Attorney
At TrafficAccidents.com, we match car accident claimants with qualified legal representatives nationwide. Do not let an insurance company deny you the financial recovery that is rightfully yours.
Visit TrafficAccidents.com and fill out the consultation form or call today. We will match you with an experienced accident lawyer who will fight for you!
Free Accident Claim Review
Complete the form to have an attorney review your accident claim