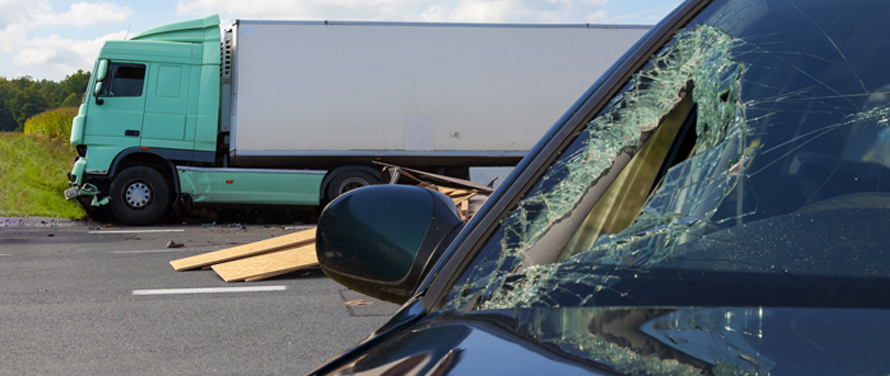 Commercial and freight trucks are much larger than average passenger vehicles. When they are involved in an accident, the resulting damages and injuries are often severe.
Traffic accidents involving commercial trucks typically cause significant property damage or catastrophic injuries. If you or someone you love has been injured by a commercial truck, it's important to seek the help of a qualified attorney.
Some commercial trucking accidents occur because of someone's negligence. When this is the case, the victim can seek auto accident compensation to cover the losses that they have suffered.
An auto injury can be life-altering. You should not bear the financial and emotional burdens of a traffic injury on your own. 
Contact a skilled accident attorney to determine who is legally responsible in your case. This is the best way to begin pursuing the money that you are owed.  
Relevant Federal and State Trucking Laws 
The commercial trucking industry is regulated by state and federal statutes. These laws establish clear standards that corporations and their employees must follow.
Commercial trucking laws can help to determine who is legally liable for the damage that happens in an accident. 
Two primary federal agencies oversee the regulation of the trucking industry. These are the Department of Transportation and the Federal Motor Carrier Safety Administration. 
These two agencies track and enforce regulations at the federal level. But each state has its own commercial trucking statutes, as well. These regulations are overseen by state-level departments of transportation. 
Accidents involving big rig trucks, semi-trucks, or other commercial vehicles are often the result of negligence. For instance, if a trucking company fails to comply with certain federal or state requirements, it can be held accountable for the damage that they cause.
Companies can also be held liable if their drivers behave in a negligent or careless manner. 
Because of the many relevant regulations, it is vital to speak with a knowledgeable trucking accident attorney if you have sustained an injury. 
Driver Requirements
Drivers of commercial trucks are subject to many requirements. Some of the most notable ones include:
Commercial Driver's Licenses
Employees of commercial trucking companies are required to have a valid commercial driver's license (CDL). They must also follow relevant state statutes regarding commercial licensing.
If a truck driver caused an accident and did not have a valid CDL at the time of the incident, they may be held liable for the damage that resulted. 
Adequate Rest
There are many regulations regarding appropriate rest for commercial truck drivers. Statutes also regulate the maximum length of a driving shift.
These regulations are known as "hours of service" guidelines. If a driver or company has violated these regulations, it may affect any related auto accident case. 
Maximum Weight Limits
Commercial trucks are subject to limitations regarding the weight that they can haul. The limit is determined by the truck's size.
For instance, a single-axle commercial truck is permitted to carry no more than 20,000 pounds. A dual-axle truck cannot haul more than 34,000 pounds.
When trucks are overloaded, motor vehicle accidents become much more likely. Determining the load of a truck can significantly influence the outcome of a personal injury claim.
Hazardous Waste Regulations
There are strict legal guidelines regarding the transport of hazardous waste. If a driver or company has violated those regulations, they can be held responsible for the resulting damages. 
 Examples of hazardous waste include:
Batteries
Motor oil
Certain electronic devices
Paints
Fluorescent light bulbs
And more
Speak with a skilled attorney about how these commercial trucking regulations might affect liability in your case.
Determining Liability in Trucking Accidents 
One of the most important elements in any accident case is proving liability. To secure compensation, you will need to show that the trucking company, driver, or another party is responsible for causing damage to you.
It is possible to hold a commercial trucking company responsible for harm caused by its employees. This legal theory is known as "vicarious liability."
Claimants can also secure recovery by proving that a driver behaved in a negligent way. One way to prove negligence is to show that a truck driver maneuvered the vehicle in an illegal manner. 
Showing that a company negligently hired an unreliable employee is another option. For example, unknowingly hiring an employee with a record of driving violations may constitute negligence. 
Get Matched with a Trusted Truck Accident Lawyer 
No matter what the circumstances of your commercial trucking accident may be, it is vital to consult with a trustworthy attorney. When you work with TrafficAccidents.com, you can get matched with a skilled legal expert.
Complete our online contact form or call to find the best trucking accident attorney to represent you. You will be happy that you did!
Free Accident Claim Review
Complete the form to have an attorney review your accident claim