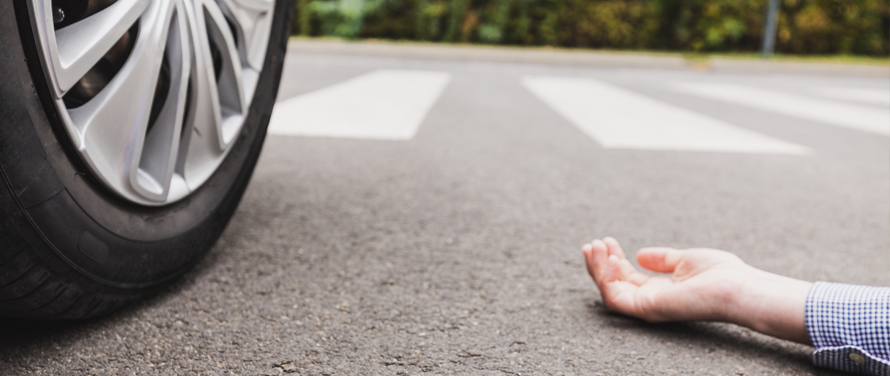 When most people think of auto accidents, they picture multiple car collisions. But walking close to roadways also presents the possibility of accidents and injuries.
According to data from the National Highway Traffic Safety Association, almost 5,000 pedestrians are fatally wounded in motor vehicle accidents annually.
In one year alone, around 76,000 pedestrians were harmed as a result of traffic accidents. These statistics show the very real dangers that pedestrians face.
If you or someone that you love has been involved in an accident while walking, do not wait. Speaking with a skilled accident attorney can help you to recover the financial reparation that you deserve.  
Common Causes of Pedestrian Traffic Accidents 
Every pedestrian injury involves a unique set of conditions. But there are some similarities among pedestrian accidents in general.
Some pedestrians are struck by motor vehicles when they're attempting to cross a roadway. If a driver does not see the person in time, they may be unable to stop or slow down before a collision occurs.
But not every pedestrian accident involves an automobile. Pedestrians can be injured in non-vehicular mishaps, as well. Thousands of these accidents happen each year.
The following conditions can result in non-vehicular pedestrian accidents and injuries:
Poor walkway maintenance
Defects in parking lots
Uneven sidewalks
Construction-related obstructions
Debris in pathways
These are only a few examples of factors that can contribute to pedestrian injuries and mishaps.  
Determining Liability and Proving Negligence 
If you have been injured, you may have the legal right to seek compensation for the costs and losses that you suffered. Securing financial recovery will require you to determine liability in your case.
In some traffic injury cases, there may be more than one liable party. In these instances, the victim can pursue payments from any responsible individuals or organizations.
Much like other personal injury cases, pedestrian accident claims rely on the legal concept of "negligence."
When another person's negligent or careless behavior resulted in damage, you may be owed financial recovery. For example, if you were struck by a vehicle while walking, you can claim auto accident compensation. 
"Negligence" is defined as the failure to act in the way that a reasonable person in that situation would act. Both action and inaction may constitute negligence.
There are four elements that contribute to legal negligence. They are:
Duty of Care
This involves proving that the liable party owed a certain duty to the claimant. For instance, a driver owes a duty of care to pedestrians to operate their vehicle in a safe and lawful manner.
Breach of Duty
A claimant must show that the liable party failed to live up to their duty of care. For example, a driver who maneuvers their vehicle recklessly has breached their duty.
Causality
The third element of negligence is Cause. The injured party must provide evidence that the breach of duty was the direct or proximate cause of the harm they suffered.
Damages
Finally, the claimant needs to prove that the liable party's negligence resulted in actual harm. If a reckless action caused no damage, then negligence cannot be proven.
Speaking with a skilled pedestrian accident lawyer will help to prove negligence in your case. 
Negligence in Pedestrian Auto Injury Cases 
No two pedestrian accidents are alike. With that said, some types of driver negligence are more common than others. 
A few of the most common examples of driver negligence include:
Driving while distracted
Driving over the lawful speed limit
Disobeying traffic signals and signage
Failing to use a turn signal
Maneuvering recklessly during dangerous weather conditions
Driving while under the influence of alcohol or drugs
Not every vehicle-pedestrian accident is the result of driver negligence. Pedestrian negligence can also contribute to accidents and injuries.
Typical examples of pedestrian negligence include:
Failing to yield when appropriate
Ignoring pedestrian signage at intersections
Disrupting the flow of traffic
Failing to use designated crosswalks
And more
No matter what the circumstances of your pedestrian accident might be, it is a good idea to consult with a legal professional.
A trusted accident attorney can help you to determine liability in your case and prove negligence to recover compensation. 
Work with an Accomplished Pedestrian Accident Attorney 
If you have suffered harm in a pedestrian-related traffic accident, do not hesitate. Waiting to pursue compensation may make it difficult to secure financial recovery.
Using Trafficaccidents.com, you can get matched with a skilled personal injury lawyer today. You may be owed significant compensation for the harms that you have sustained. To begin a pedestrian accident claim, complete the contact form online or call to schedule a consultation. Contact an attorney through Trafficaccidents.com today!
Free Accident Claim Review
Complete the form to have an attorney review your accident claim